The Particular Matter of A Pisces* Rug

2023 - ongoing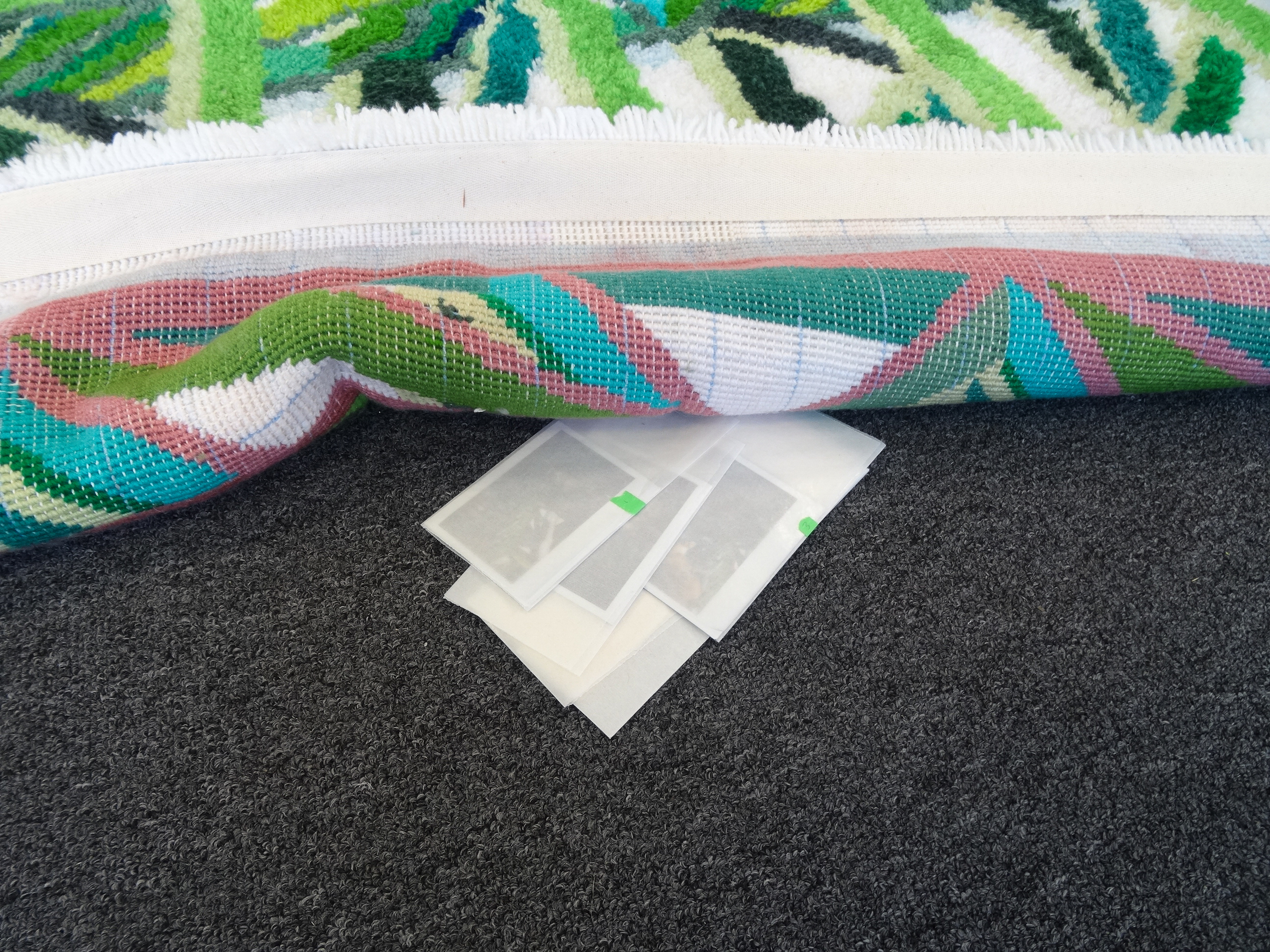 A rug is a platform like a stage, like a green screen.

Stages are sites for infinite narratives to take place. Rugs are equally as infinite. What occurs on the rug: vacuuming, listening to a friend, watching tv, movies, seances, looking at the ceiling, sex, walking across with muddy boots, stretching, dancing in socks, dealing, yelling at the world, tickling, praying, flipping through catalogs or instagram, admitting, rejecting, astral projection, packing to leave, unpacking, sorting old photographs, fashion shows, truths and dares, coffee, crying, snacks, punching, playing with a dog, picking up spilled peas, scrubbing what will be a new stain, puking, dying, fainting, picking out lint, hot lava, charades.

So I had a baby, I was having a baby.

And I decided a rug would be a great thing to make with a tiny baby around. Of course, this rug needed to be two, as all stages are twinned. They're in conversation with one another - they are not the same but one is always there when you're with the other.

And so I drew the twinned rug out. I ordered the matrix and an array of colors, all pre-cut yarn from a craft supply outlet. It's nothing fancy. I cut the matrix at 5 feet by 9 feet each for the twinned scaffold. It needed to be sizable enough to be a platform and not a placemat. It needed to be able to fit multiple bodies. At least the baby, the dog and me.

Turns out hooking a rug is not a great project to do with a tiny baby, as you need both hands. Sometimes, I would hook the rug on my bed at night as the baby slept. I would stay up way too late, over and over again, hooking the rug. I would fall asleep under the rug or lie with the dog on top of it. Until the baby awoke, again.

The rug has been hooked on the bed, the couch, the floor, but most often the dining room table.

I'm one of those people who really love when things are tidy and organized but I'm also one whose tidy never seems to stay. If the table is clear, little by little, objects arrive on the surface. It could start with objects for eating or objects for working and then become objects for tinkering, maybe objects for later, and then objects that drift in the house. The table is a convenient place for things to rest with other things. Buttons, string, stuffies. A pen, a syllabus, tiger's balm. Things that I'm supposed to fix because they broke. Things discovered in the kid's backpack in the morning just before they leave for school. Marker pens that may or may not have lids. A few rocks. Cups of coffee that were drunk while on Zoom meetings. Unopened mail and letters to be posted. The objects are particulate matter until they become an accumulation, a pile, a scene.

But when hooking a rug on the dining room table, all those things scatter to any other horizontal surface nearby. Or maybe they go in the sink to be washed. Or in the child's drawer to add to the other essential bits. Maybe things are put away where they should go, but many are layered on another table, like stratum. When I leave the rug on the table, we eat on the floor, picnic style. Sometimes, I'll roll the rug away from the table to eat our meal in chairs. And then the things start finding themselves there again.

This rug has been built piece by piece, alone or with our family of people, since the baby was born eight years ago. It's a Pisces rug. And it will be complete when it's Pisces twin joins it.

*"Pisces need structure to stop themselves from spilling out from all sides." - from somewhere on the internet.


Photographed by Milo Christie

Presented at:


Weather Proof w/ Kiki & Bouba


Acknowledgements
Thank you to the great many hands that have worked on this rug including Hannah Lee, Martha Morimoto, Will Krauland, Fan Ge, April Martin, Matt Morris, Virginia Schneider, Zachary Schneider, Cindy Schneider, Bex Yolk, Madelaine Aguilar, Luba Mendelevich, Yue Xu, Jasmine Huaimin Yeh, SungHo Bae, Ellen Kenston, Broderick McGarvey. A very special thank you to Jess Bass, Cori Williams and especially to my remarkable mom, Betty Kaczynski.